Youth
Every Wednesday
5:30 pm
Upcoming Youth Events
We have a lot going on with our Youth Group. This is a list of events you might be interested in but it does not include everything. We always have new activities popping up so stay tuned.
Our Latest Incentive Trip
Stars⭐ for the Incentive Trip
The incentive trips are always a blast! If you are wandering if you have collected enough stars to have your trip paid for, click the button below to check your total.
Summer Camp 2022
SBC Youth love going to TVR summer camp each year. It is a wonderful place filled with lots of activities and a staff that absolutely love the Lord! If you are interested in going with us this year, contact Lisa Lee or call the church office. The video below will give you a glimpse into the fun we had in 2022. There are not a lot of pictures of their quiet times and none of their worship services but this is a major part of their week.
And though a man might prevail against one who is alone, two will withstand him—a threefold cord is not quickly broken. Ecc. 4:12
Besides our time spent together learning about God and growing in our relationship with Him, we also enjoy growing in our friendships with one another. Here is a video of our recent Bridging Ceremony where we committed to walk along side those who are new to our Youth Group.
Look at the amazing start we had to SEE YOU AT THE POLE this school year! The pictures don't show the full numbers.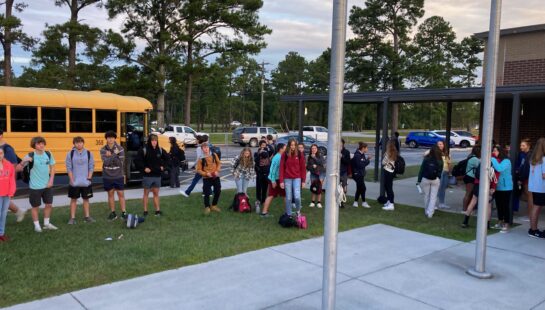 DHS See You at the Pole
This is about a 1/4 of the group that was in the circle. DHS SYATP starts at 6:50 on the second Wednesday of each month.
DMS See You at the Pole
There were so many students who showed up at the middle school that we had to form a circle for each of the three grades.
6th graders
The 6th grade circle was in front of the office.
7th & 8th grades
The 7th graders were circled around the flag pole. You can see in the background of the picture the 8th graders circled up in front of the gym.
FCA Interest Meeting
Later in the day, there was a meeting for any student who might be interested in joining FCA. This meeting was purely voluntary. I am not sure how many were in attendance but I know that after the meeting 40 students came up to the coaches and said they were interested in being student leaders.